Turning Bad Reviews into a Marketing Opportunity
If you have a business it is only a matter of time, before a disgruntled customer posts a scathing review on Google, Tripadvisor or something similar. Occasionally, a bad review may even be posted by a competitor, concerned that your business is doing better than theirs. Whatever the origin it can be turned to your advantage if you keep a cool head.
Identifying the author
It is a good idea to ask your staff if they can recall the customer by looking at the review. If it is a genuine customer, there will usually be no difficulty finding the story behind the complaint. You will have a better idea how to reply to the review if you know all the facts behind it. If, after asking around, you find that it doesn't jog someone's memory, it could be that no staff member wants to admit to being responsible for a problem, or that it may not be a genuine review at all.
Fake reviews fall into two categories, the first is where no such visit took place, the second is where someone was put up to create an issue. In either case, you can often spot a fake review by its level of criticism and the tendency to criticise absolutely everything about your business.
Taking Action
Frankly, it is not important whether it is a valid criticism or not, in terms of how you should respond, unless you can successfully prove it was not genuine and persuade the site to remove it. What is important is that you should act on any valid points, to ensure they don't occur again and take a little thinking time before you 'wing off' a reply you might later regret.
When replying you are not usually doing so for the benefit of the complainant, you are endeavouring to limit damage and leave a good impression of your business and yourself for readers. To illustrate the point let's look at a real example of a negative TripAdvisor review, the jury is still out on whether this was a genuine review or not.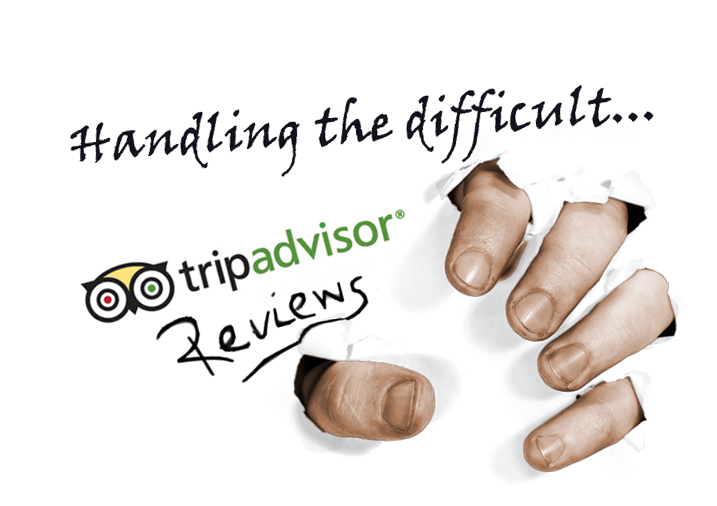 Review
On arrival we were left for a considerable amount of time sat at the table. We were only acknowledged properly when I got up to make an order. Especially as they are a small tearoom, you would expect them to make us feel welcome as they would know we are new customers. The mini afternoon tea did not contain a full packet of crisps and the juice should have really been in a carton- not a beaker/cup with straw. We ordered hot chocolate one without marshmallow but all with cream. We were given all with marshmallow and one without cream- even though the order was written down by the waitress. The menu is misleading as we ordered three seperate (sic) sweet/savoury afternoon teas but all three of us were expected to share one tiny salad (4 slices of cucumber 3 cherry tomatoes) and a few crisps- only enough to serve one. The salmon in two sandwiches had turned grey- it had clearly been left out for too long. Finally, the cake, (which we decided to take away) was dry and almost stale. Overall, we were recommended this tearoom by a few people and we will not be returning… if you're going to serve afternoon tea, do it right! A disappointing experience.
Reply
Thank you for taking the time to review your experience at (business name removed). Firstly, may I offer our apologies for any issues that may have upset you during your visit.
While we do not have a strict table service policy, we fully understand that some customers prefer it. We do try to attend tables as soon as we think customers have had sufficient time, to decide what they would like to order. However, it is not always clear when customers are ready to order and fortunately most will attract the attention of a waitress when ready.
As a traditional tearoom, we do not serve drinks in cartons, we feel that it is part of the authentic experience to have traditional crockery wherever practicable. Garnishes are added to many meals as a presentation element, alternatively, various salads can be found on our menu if desired, these are of course much more substantial meals.
Lastly, the salmon we use may have both pink and brown colour elements depending on the part of the fish, this is quite usual with fresh salmon. We are very proud of the high satisfaction rate that we consistently achieve with Tripadvisor and other review sites, but we are not complacent.
We invite reviews both good and bad and where appropriate take immediate action.
TripAdvisor found that 65% of their users are more likely to book with a business that responds to reviews (versus a similar business that doesn't), and 85% of their users say a good management response to a poor review improves their impression of a business.